The ultimate templating system is here
Discover how the new in PhraseExpander 5 can save you time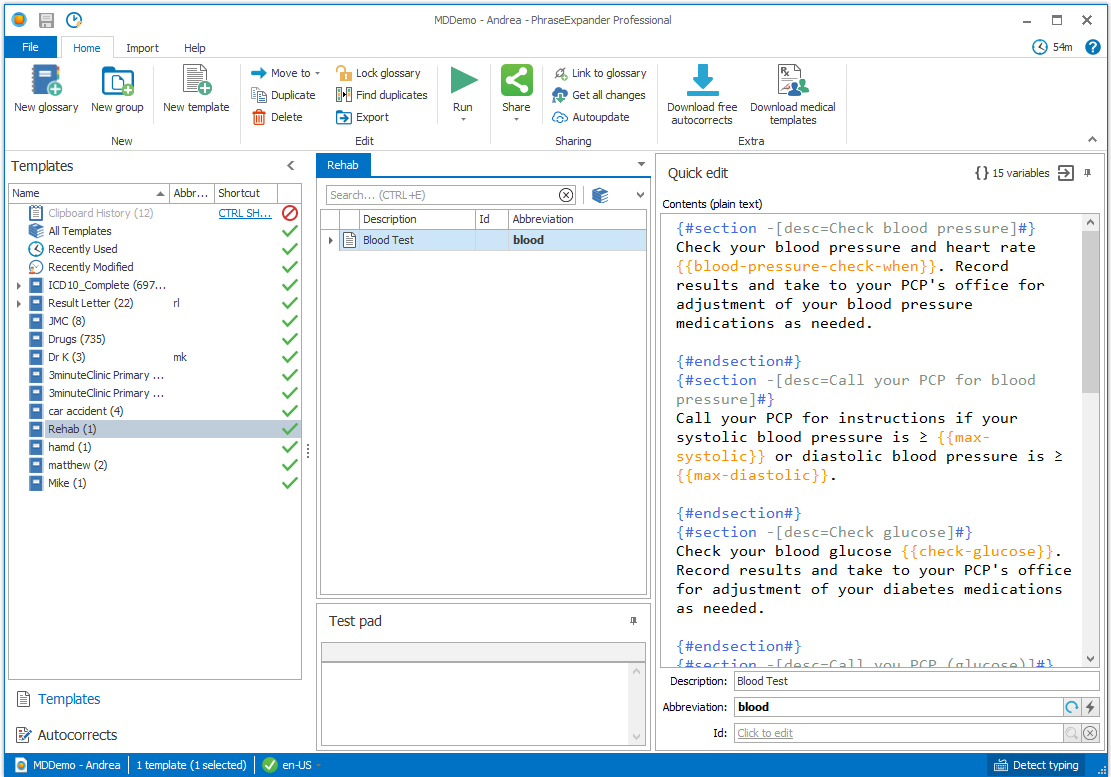 Over the last 3 years, PhraseExpander 4 has been an important tool for my practice. With the ability to use logic and combine macros, PhraseExpander 5 has revolutionized the way I document my patient visits.

My notes look better and get done faster, so I am able to get home on time.

— Ryan Kauffman, MD, FAAFP,

Hickory Medical Direct Primary Care, LLC
Build forms that adapt as you type
With the new execution engine, forms adapt as you make changes.
So, you can:
The Live Preview displays the final result you are going to get, in real time
Use your keyboard and mouse to fill-in the data in the left section of the Input form.
The generated template is updated in real time in the preview pane, so you always get the full picture of the final text you are entering in your EMR.
Being able to see the live creation of documents in PhraseExpander 5 is a great feature that has improved the readability of my automatically generated form letters.

— Ari Kounavis,

MD, Pediatric Allergy/Immunology
Building templates just got easier
New lightweight variable syntax increases readability
All your variables at a glance
The Manage variables window displays all the variables you have defined in your template, so you can edit them in a single place.
You can also reuse and edit the variables you have defined in other templates.
Advanced options for fill-in variables
Fill-ins display a form to request additional info when the template is executed.
PhraseExpander 5 brings documentation assistance to a whole new level thanks to if/then statements to enable the creation of dynamic templates.

I can administer questionnaires which auto-score and allow for fully customized output. This makes the end result more streamlined and precise as the forms adapt to user selections in real-time and offer only those choices that are context-specific.

And now, touchscreen support is comprehensive allowing mobile providers with tablets a responsive and enjoyable user experience.

This is an excellent product I've used for years - that just got better.

— Dr. Joy Geyman, Psy.D.,

Clinical Psychologist, San Diego, CA
The new if/them macro lets you customize the output of your template based on the contents of a variable. 
For example, you can use this to customize your template based on the gender of the patient or display specific questions based on previous answers.
Use the Section macro to create optional sections that can be either inserted or removed from the final document.
A section macro can contain texts macros, and variables.
Edit and create nested macros and variables
Create and compose templates
Assign an ID to each template, so you can use it as a building block for other templates
New editor and multi-tab interface for easier editing of complex templates
You can now open a template in full-screen and have more space to edit complex forms.
You can also display many templates at the same time, so you can compare templates or create building blocks for common sections.