PhraseExpander is the Ideal EMR Companion Reduce charting time by up to 1 hour per day
Type out long medical notes in less time and with improved accuracy
---
Autocomplete names of drugs, medications or long phrases
PhraseExpander SmartComplete™ saves time and reduces errors by offering relevant suggestions as you type.
Autocomplete drugs and medications and treatments in any section of your EMR

Start typing the beginning of a word (or phrase) and see the suggestions instantly appear

Download free libraries of thousands of drugs and medical terms ready to use

Easily add your own templates as you go or by importing your documents
Thousands of doctors reduced their data entry time in the EMR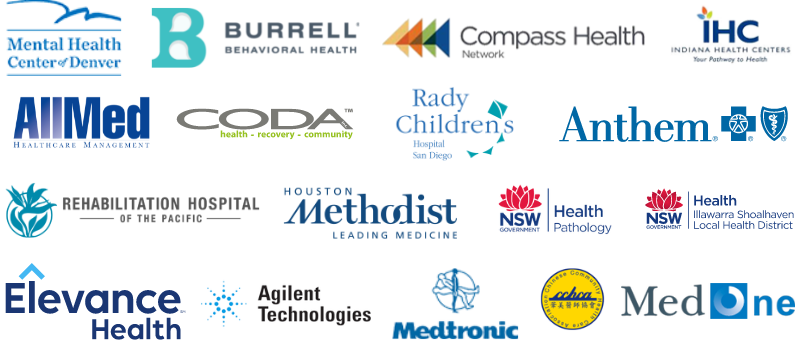 Before using PhraseExpander, it took me almost 2 hours to dictate my notes every day. Now I don't bring charts home anymore.

— Manish Patel,

MD, CEO / Partner, SOUTHWEST ORTHOPAEDIC GROUP
EMR is a reality for most doctors today. Every click or keystroke steals time that I could spend engaging patients. PhraseExpander maximizes my patient time, by minimizing my computer time. I call that a win-win.

— Paul Neumann,

MD, OD, Optometrist
Instantly insert phrases, terms and images
Save precious time by setting up shortcuts for phrases, formatted text, and paragraphs you commonly type so they'll appear instantly.
Type a few characters and PhraseExpander will suggest possible phrases to enter

Press the SHIFT key and the full paragraph appears in your document

More advanced operations are possible thanks to the built-in macro execution engine

Ensure that all your regularly used phrases and terms are properly spelled
Thanks to dynamic forms, you can design your templates in a few minutes
You have plenty of options to request additional info.
A few clicks and a complete customized paragraph is generated and ready to be inserted into your note
PhraseExpander has revolutionized how we have done notes here and lets us make good readable notes quickly, instead of skimping and turning in short notes that don't say much.

— Matthew Kreth,

M.D., PEDIATRIC PULMONOLOGY FELLOW CHILDREN'S OF ALABAMA
Calculate scores, insert reference info and dates with macros
PhraseExpander comes with a powerful macro language that gives you the ability to customize your templates as you wish.
Reuse the name of the patient throughout the template

Calculate scores based on the patient answers

Adapt the form as you are filling it in
---

Your templates are with you, wherever you go
It doesn't matter if you switch EMR or you are working on different clinics with different EMRs.
Your templates and proven setup stays with you and saves you time, whatever EMR you are using
PhraseExpander runs quietly in the background and makes autocomplete and templates available in any EMR

Even if your EMR has some sort of autocompletion (like Epic Smart phrases), PhraseExpander can provide with additional boost by working in any section of your EMR and providing a totally unmatched flexibility in templat.

It also works in any other application, like Microsoft Word, any browser, your email program

Use it together with your dictation system (e.g. Dragon Naturally Speaking) for improved speed and accuracy

Install PhraseExpander on many PCs, sync all your office computers and use your phrases from anywhere in your office
PhraseExpander has become an indispensable tool for our organization. It has allowed our team to improve the content of our medical documentation while also reducing the time spent. These goals had always appeared to be at odds with each other prior to the utilization of PhraseExpander. Another benefit of PhraseExpander is that it allows individual departments to make immediate changes to our documentation without the added cost and time associated with involving our IT department.

— Matthew Curran,

PTA, CEES, JUPITER MEDICAL CENTER
Great tool for all your medical staff
Set up your custom templates and get started with it is just a matter of minutes and share the benefits with other people

PhraseExpander comes with built-in support for sharing your templates among many users in the network

Get always access to your updated templates in all the exam rooms (or lab rooms) you need to work in
Works in your EMR but also in Word, Excel, your email application or any application you use often

Have your staff quickly set appointments, send emails, and reply to patients in a consistent and professional way

Whether you are a small practice or a large hospital, you can improve accuracy and reduce your charting time
Recover your investment in just a few weeks
Check how much typing you can save with the Usage Stats
Spend less time on data entry tasks and improve the quality of care
Save money on costly transcription services

Quick access to all your reference material

Use PhraseExpander for more than just inserting text. Launch your EMR application, open your favorite medical websites (for example, you can select a term in any application and search for it on the UpToDate website) and your commonly used programs

The Help Center gives you access to resources, videos, and step by step tutorials to get up to speed in a very short amount of time