Discover what's new in PhraseExpander 4
35 new features to assist you in all your repetitive tasks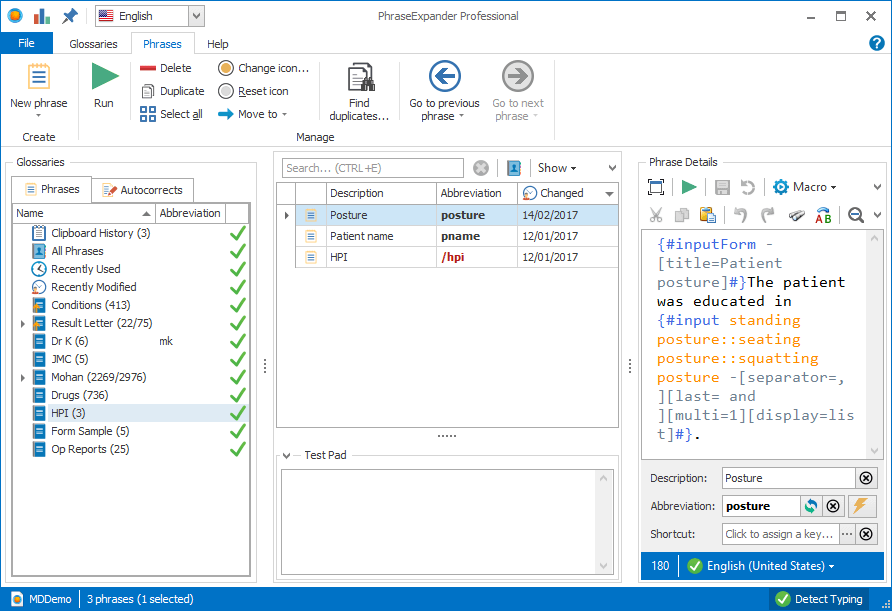 PhraseExpander has allowed me to write more detailed notes in a shorter amount of time, and the creation of custom forms for specific chief complaints prevents me from forgetting to ask key questions while taking a history.

— Ari Kounavis,

M.D., Pediatric Allergy/Immunology
Using the new PhraseExpander 4, I am impressed with its speed and new cleaner interface. A big shout-out to Andrea for creating this amazing time-saver!

— Frederick Epp,

Event Marketing Specialist
PhraseExpander 4 is much faster than v3, and is a delight to use. I love it, and use it every day, for emails, data entry forms, creative writing.

— Peter Falkenberg Brown,

Snr Publisher, SignificatoJournal.com
New Suggestions Window now has built-in search
The Suggestions Window suggests phrases as you type.
Now, it also allows you to fully navigate through all your phrases and search for them, without opening the PhraseExpander main window.
Quick Find: stop hunting for your phrases
Have you forgotten if you have already created a phrase?
Now you can search for any phrase by using the Quick Find.
The Quick Find is displayed by typing a key combination, and from there you can search for any text you entered in PhraseExpander and expand it immediately
Manage and organize your phrases in a smoother way
Organize your phrases in multi-level groups
PhraseExpander can now create multi-level groups you can navigate directly from the Suggestions Window. You now have more freedom to organize things as you want.
Cloud Sync gives you access to your phrases from all your computers
You can store your phrases in the cloud: the most popular cloud services like Dropbox, Google Drive and Microsoft OneDrive are natively supported.
Keep track of modified phrases
PhraseExpander now displays when a phrase has been changed or executed, so you can more easily find and track which phrases you use most, and which ones are good candidates for a clean-up.
Find and remove duplicates
PhraseExpander will notify if the phrase you are inserting is already there, and will display duplicate phrases.
Automatic backups take good care of your data
The Backup Manager will automatically perform backups of your data, so you'll always be able to get back to the previous version.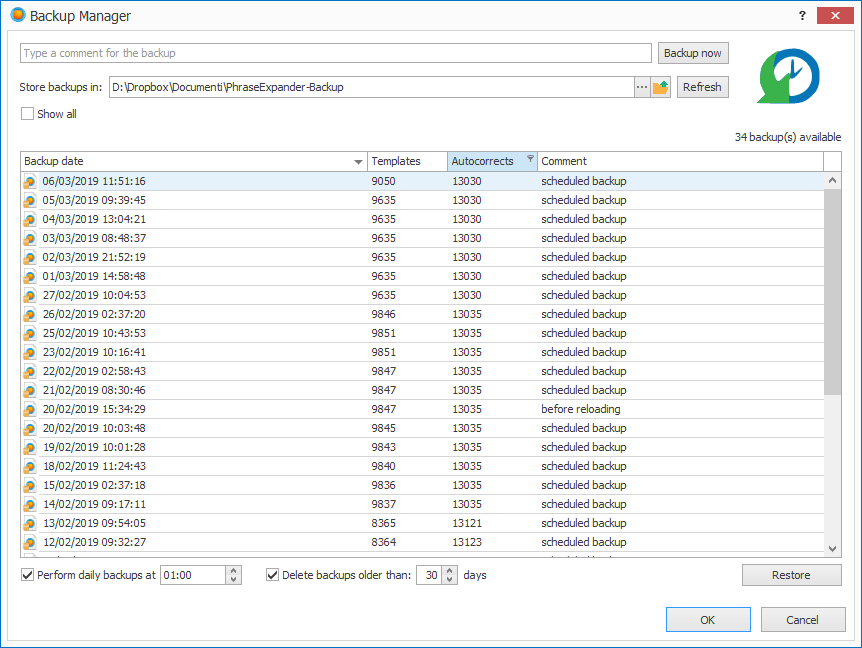 The Clipboard History has a new home
The Clipboard History is now a Phrase Glossary and has its place with all the other glossaries, so creating phrases from the items you last copied into the Clipboard is much faster.
Hide/Show columns to customize your phrase view
Personalize the phrase list to display the information you need by hiding and showing the appropriate columns.
Editing phrases is now easier than ever
If your phrase contains a lot of macros, editing it can be pretty hard. That's why we introduced three significant improvements that will ultimately change how you edit your phrases in PhraseExpander.
Syntax Highlighting
PhraseExpander will highlight macros so that you can quickly identify all the parts of your phrase.
Easy view makes your templates easier to read
When a phrase contains many Manual Input macros, it can be hard to read. With Easy View, the macro definition is collapsed to display a slimmed-down representation of your macros.
Selecting and editing macros
You can select a macro by clicking on it. To edit it, double-click on the macro definer to open the edit window and make the appropriate changes.
No embarrassing spelling mistakes in your phrases with the built-in spell checker
The phrase editing box has an integrated spell checker so that you can verify that your stock phrase does not contain any spelling mistake. We support many languages, and you can add your dictionaries as well.
Reusing phrases & creating counters
The Variable and Set Phrase Contents macros let you easily reuse the same piece of contents in your templates. You can also create counters that increment each time a phrase is executed, like in the example below where you need to update the counter for each image.
Improved Manual Inputs for your custom templates
The most powerful templating system available in a text expander just got better with:
Automatically populate your phrases
Creating phrases one by one can be a daunting task. That's why PhraseExpander offers many ways to automatically create your phrases.
Import your phrases from Excel
PhraseExpander can connect to an Excel file (or CSV file) and automatically create phrases from it. You can fully customize the text in the phrase based on the data in the data source.
Linking to a data source does not just mean importing data from it, but defining how those data are transformed into phrases in PhraseExpander.
On top of that, you can keep a connection to the data source: when the data are changed in the original source, they are updated in PhraseExpander.
Analyze documents to extract & import your most common phrases
Do you have a bunch of documents that contain the texts you are typing often? PhraseExpander can analyze them and extract the terms and sentences you use most, and automatically generate phrases from them.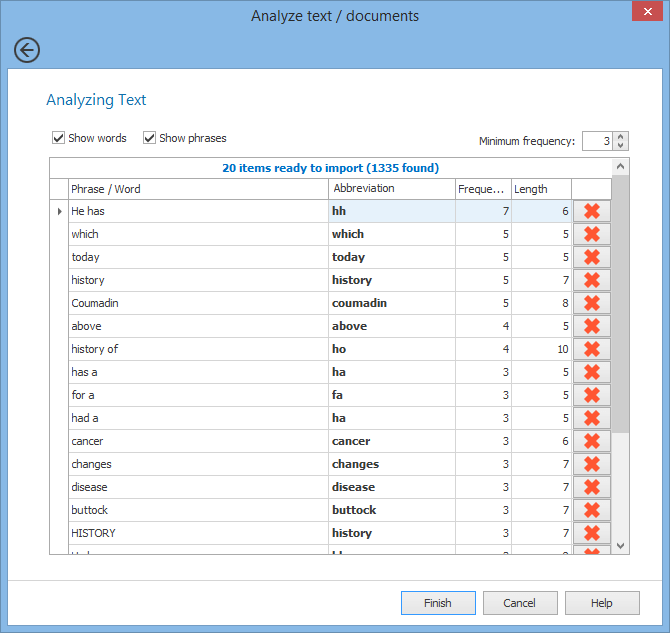 Add phrases and autocorrects by typing a keyboard shortcut
If you notice that you are typing a piece of information often, just select it and press a key combination to add it into your list. The new Add Phrase dialog is much faster and will not disrupt your workflow. You can do the same when you discover a term that you often mistype.
Download free glossaries without leaving PhraseExpander
Our rich library of free pre-filled phrases is now available to you, directly inside PhraseExpander.
More exciting new features