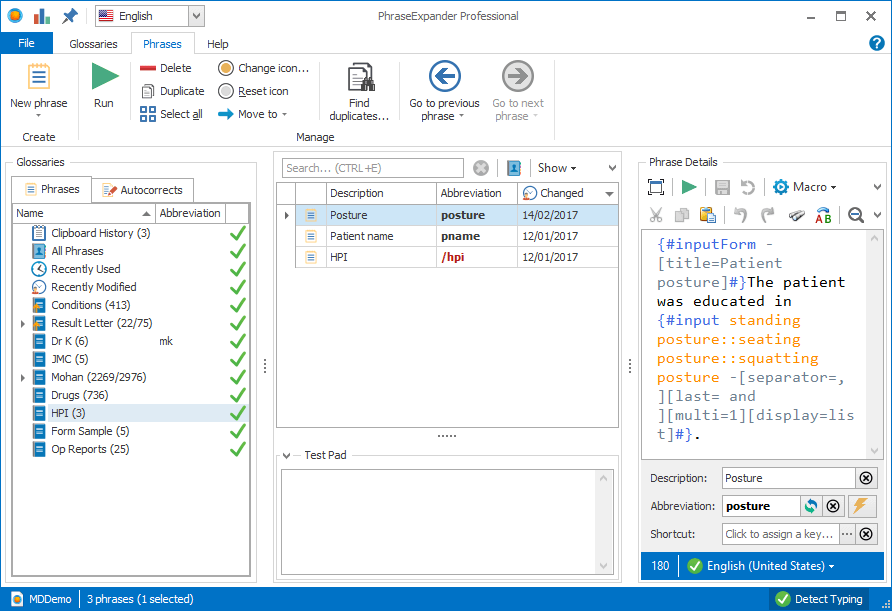 PhraseExpander makes your data accessible in any application by typing a quick shortcode.
I run a small law firm that handles a client base of a large law firm. Our secret to success is picking the right software to increase efficiency. Phrasexpander is that software. It is one of the easiest software programs I have ever used (I can train a new staff member in under five minutes) and it increases our productivity tenfold!

— Michael Drumm, Attorney, DRUMM LAW LLC
6 Ways you can be more efficient with PhraseExpander
No more repetitive cut and paste. All the information you need is instantly available, in any application.
No more typos, a list of 5,000 phrases and autocorrections are available to correct your spelling mistakes in all your applications.
Get some work off your desk: share your phrases with your assistant so that she can create replies and send proposals as you want them.
Search and open your documents in any application by just typing a few keystrokes.
Step by step articles and video tutorials will guide you from the simplest to the most advanced tasks.
Use customizable forms to create contracts, agreements, patents and invoices with point & click.
NOTE: PhraseExpander works in any edition of Microsoft Windows. If you want to test it out, you can download a free trial here.
Put PhraseExpander through its paces, and you'll get your return on investment in saved time (and frustration) in less than one week. We guarantee it (or you get your money back).
100%
30-Day Money Back Guarantee
No questions asked, no hassles, no problems!
SECURE
Checkout
You can trust us!
Are my data safe?
All orders are secured with military-grade TLS encryption. Your information is absolutely safe. All orders are processed via Fastspring., our e-commerce partner based in California, USA.
When will I get my license?
Once your order is confirmed, you will receive your license key to activate PhraseExpander in a few minutes, directly into your mailbox.
Can I use PhraseExpander on all my computers?
PhraseExpander is licensed per user and machine. One license per user for each machine. If you use more than one PC, we offer the Home & Office Pack (that you can select at checkout) that allows for installation on up to 3 PCs, for your own exclusive use.
IMPORTANT: the same license key cannot be shared among different users. If PhraseExpander is used by more than one people, you need to buy a license for each user (we offer discounts for volume licensing).
Will I need to pay again when a new version is released?
When you purchase a license, you are entitled to 12-month upgrade protection: this means you will get all the new versions released in the 12 months following your purchase, at no extra cost. After 1 year, you'll need to renew your upgrade protection to continue receiving updates and support.
We plan to release v.5 at the beginning of 2017 and this upgrade will be totally free for you.
Will PhraseExpander stop working after 1 year? Will I need to pay again?
Absolutely not. You can continue using the license you have purchased. After 1 year , if you don't renew your upgrade protection, you'll be no longer entitled to updates and support.
I've been using PhraseExpander for many years and this is the kind of software that will pay for itself many times over and can be used in almost any profession. Statistics are tracked within the program, and after just a few days you'll wonder how you ever lived without it.

— John Meyer, John Meyer, Sr Sales Executive and Business Development Manager, Blue Ridge Ventures, LLC
Break free of mundane work today + special bonus
On top of your discounted license, you will also get the special cheat sheet we use to train our corporate customers.
It contains all the shortcuts, information, and tips to master PhraseExpander in an hour. All the essential information distilled in 3 pages to give you access to the fast route to text expansion mastery.
And if you don't feel it's enough for you, reach out to me, and I'll personally train you and make sure you get the value from PhraseExpander.
So what are you waiting for?
Stop wasting hours doing data entry. And spend more time doing the work that really matters!